ROOTS 102 features over 75 years of the BEST BLUES ever recorded!
"The Gospel Blues Hour" broadcasts every Sunday morning at 8 am EDT on BOTH STATIONS - ROOTS 102 & CROSS 104 with several more replays throughout each week.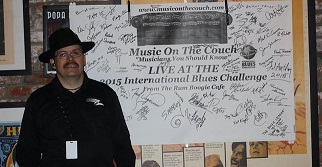 Our goal is to Keep The Blues Alive by showcasing amazing new and upcoming talent FROM AROUND THE WORLD! Blues is the ROOTS of all modern music, which is why we named our station Roots 102.
Are you a Blues Artist? SEND US YOUR CD FOR CONSIDERATION! (BillandKatRadio, 3055 Sovereign Drive, Cincinnati, OH 45251 USA)
We are known for our support of new artists and are proud to showcase amazing new talent. Click Contact Us and tell us about yourself, or FIND US on Facebook. All of our stations broadcast from our web site and TuneIn, so your fans can easily access your music.
Like what you hear? Please consider clicking on the Donate button and help us keep our network on the air. Thanks!